Helpful Links for Prospect Day and Showcase Information:
Link to Upcoming Prospect Days: Click Here

Prospect Days:

Prospect Days are recruiting events held on the campus of D1, D2 and D3 schools. These are smaller and more intimate settings where players have the full attention of the entire college coaching staff.  Generally players are put through a college practice session that includes drills and game play.

Link to Upcoming Showcases: Click Here

Showcases:

Showcases are recruiting events where players "showcase" their individual talents D1, D2 and D3 lacrosse coaches. Players are broken into teams and there are several games over the course of a day to allow the coaches to evaluate each player. Showcases are an excellent opportunity for individuals to get exposure to multiple college coaches in a single setting.
Recruiting Platform Overview:
(The most Comprehensive Club Lacrosse College Recruiting Platform Around)!
At Shoreline Lacrosse we believe that it is our obligation as an organization to fully advise, educate, and provide our members with the strategic tools needed to navigate and effectively understand the recruiting Landscape. Our propriety Recruiting Platform led by our Recruiting Director and former College Coach Kevin Frank allows all of our members to execute their tailored recruiting blueprint at the highest level! 
What's included:
X2 Full Program Seminars (1 Fall, 1 Winter)

Fall Team Seminar with College Coach Guest Speaker:

Held at the Niantic Cinemas in Cinema 4
1.5 Hour Duration for each event
Q/A Session

Focus:

Comprehensive Review of "included" Sports Recruits online Profile functions and how to best take advantage of this service marketing yourself to college coaches.
Game Film/ Highlight Film importance

Specific Access as a member of Shoreline lacrosse to all tournament game film that is offered at the lowest possible price. (This is extremely important because game film per tournament can cost families up to $200 for each event and as a program we have developed a structure that will allow all of our players access to this vital game film that is essential when creating your custom Highlight film at the cheapest industry price)!

College Coaches Perspective/ Guidance
Recruiting timeline Review (For Each HS Graduation Year)
Full overview of how our staff and Recruiting Director/ Former College Coach Kevin Frank will help each one of our athletes develop your custom tailored Recruiting BLUEPRINT!

Initial individual Recruiting meeting in our office: This includes Player/ Parents and will be run by our Recruiting Director Kevin Frank
Sports Recruits Online Profile: (Included in tuition for all Members)$250 value
Access to all filmed tournament games at the lowest possible price: up to a $900 in savings.
Initial summer recruiting meeting
Highlight Film Creation: Access to (FONTROW) application through Sports Recruits membership where members will be able to create their own highlight films at no cost!
Unlimited Advocating Service:

At Shoreline our Recruiting Director and Staff have a vast amount of College Lacrosse Coach connections and relationships across all three Divisions in Men's and Women's College Lacrosse. Our Director of Recruiting Coach Frank and Founder Adam Rand will communicate throughout the year with college coaches that our players are interested in allowing our athletes to gain the information and guidance needed on ways to gain exposure from specific schools of interest.
Our staff is communicating with college coaches Daily and Weekly to ensure the commitment process is complete as well as lines of communication are opened up for our players interested in playing Lacrosse at the Collegiate level.
SportsRecruits Announcement
We're excited to announce a new integration with SportsRecruits. CT-Shoreline Lacrosse is committed to helping those players in our program that have aspirations of playing in college. We have integrated with
SportsRecruits
to give our student-athletes a competitive advantage in their recruiting journeys. The SportsRecruits Recruiting Platform is a state-of-the-art recruiting software that connects student-athletes with every college coach in the country – automatically.  In addition to Sports Recruits CT-Shoreline Lacrosse provides all of our HS level members with in person "College Recruiting Game Planning" meetings that we will schedule throughout the year to help all of our Athletes build the strongest Tailored Recruiting Game Plan focused on each individuals Academic and Athletic Goals.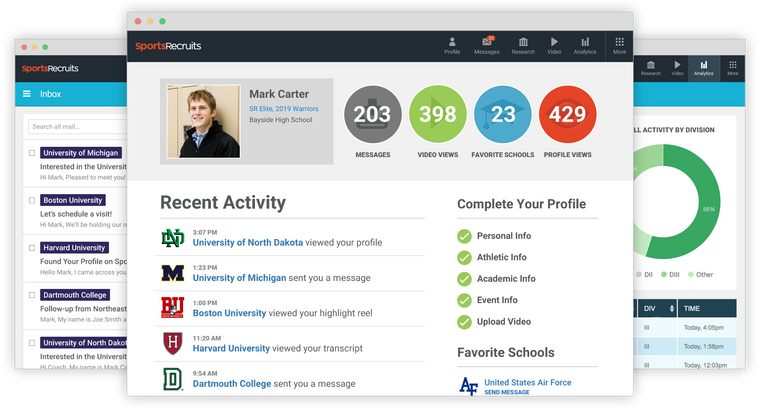 ---
What is SportsRecruits?
SportsRecruits is a platform that provides clubs, players and their families access to every college coach in the country. Club organizations use our platform to empower their players in the recruiting process and oversee their efforts and communication with complete transparency. Connections made on the platform have resulted in commitments to the best academic and athletic institutions across the country. SportsRecruits is headquartered in New York City. For more information, visit
sportsrecruits.com
.
---
Using SportsRecruits
Using SportsRecruits is simple, intuitive, and powerful. Watch the demonstration video below to see some of the ways SportsRecruits will connect our club's student-athletes, parents, and staff, with college coaches.
---
Recruiting Education
In addition to the innovative SportsRecruits Recruiting Platform, SportsRecruits also offers its educational and inspirational resources to help student-athletes and families navigate the recruiting process. Below, we've included links to a selection of articles to help you get started on the right foot and execute the best possible recruiting process.
---
SportsRecruits Knowledge Base
We are committed to guiding our student-athletes on their recruiting journeys. If you need additional help with the platform, including personal support from the SportsRecruits Customer Success team, access the
Knowledge Base
.