SportsRecruits Announcement
We're excited to announce a new integration with SportsRecruits. CT-Shoreline Lacrosse is committed to helping those players in our program that have aspirations of playing in college. We have integrated with
SportsRecruits
to give our student-athletes a competitive advantage in their recruiting journeys. The SportsRecruits Recruiting Platform is a state-of-the-art recruiting software that connects student-athletes with every college coach in the country – automatically.  In addition to Sports Recruits CT-Shoreline Lacrosse provides all of our HS level members with in person "College Recruiting Game Planning" meetings that we will schedule throughout the year to help all of our Athletes build the strongest Tailored Recruiting Game Plan focused on each individuals Academic and Athletic Goals.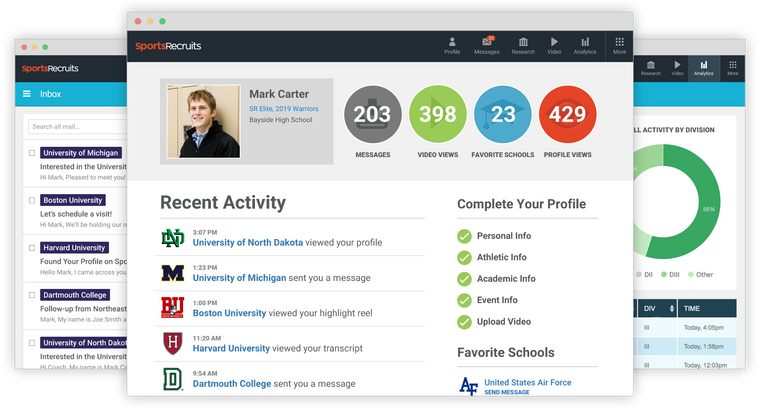 ---
What is SportsRecruits?
SportsRecruits is a platform that provides clubs, players and their families access to every college coach in the country. Club organizations use our platform to empower their players in the recruiting process and oversee their efforts and communication with complete transparency. Connections made on the platform have resulted in commitments to the best academic and athletic institutions across the country. SportsRecruits is headquartered in New York City. For more information, visit
sportsrecruits.com
.
---
Using SportsRecruits
Using SportsRecruits is simple, intuitive, and powerful. Watch the demonstration video below to see some of the ways SportsRecruits will connect our club's student-athletes, parents, and staff, with college coaches.
---
Recruiting Education
In addition to the innovative SportsRecruits Recruiting Platform, SportsRecruits also offers its educational and inspirational resources to help student-athletes and families navigate the recruiting process. Below, we've included links to a selection of articles to help you get started on the right foot and execute the best possible recruiting process.
---
SportsRecruits Knowledge Base
We are committed to guiding our student-athletes on their recruiting journeys. If you need additional help with the platform, including personal support from the SportsRecruits Customer Success team, access the
Knowledge Base
.